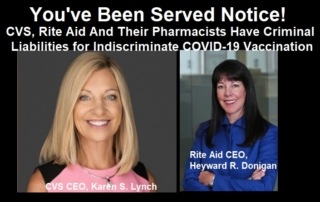 Health Impact News is giving public notice that two private corporations, CVS and Rite Aid, have been issued a Safety Warning for the potential danger of indiscriminate COVID-19 "vaccination" in the naturally immune and recently COVID-19 infected, by Dr. Hooman Noorchashm, MD, Phd, on April 29th, 2021.
Many physicians have now spoken publicly about studies showing that those with natural COVID immunity will see a 2 to 3 fold increase risk of adverse reactions from the COVID shots.
This includes Dr. Ben Edward's testimony to the Texas Senate Committee on State Affairs this past week.
A Letter of Safety Warning To CVS, Rite Aid And Their Pharmacists
The Potential Danger of Indiscriminate COVID-19 Vaccination In The Naturally Immune And Recently COVID-19 Infected.
by Dr. Hooman Noorchashm MD, PhD
Dear Ms. Donigan, Ms. Lynch and pharmacist colleagues,
I write this open letter of safety warning and concern to you as an immunologist and physician — so as to, both, help protect a subset of American patients I know to be at totally avoidable risk of harm, and to help provide you and your risk managers and attorneys with information to limit your corporations' liability against what I believe is the high likelihood of impending litigation by customers harmed as such.
Specifically, I am writing to inform you that CVS and Rite Aid customers , who are either naturally immune to or recently infected by SARS-CoV-2, are likely to be at risk of harm when your pharmacists indiscriminately vaccinate them using the COVID-19 vaccines from Pfizer and Moderna.
I have extensively communicated my safety concerns about the indiscriminate COVID-19 vaccination of the already naturally immune and recently infected to the United States Food and Drug Administration, as well as to the executives at Pfizer and Moderna. These entities have chosen, so far, to ignore these safety concerns to the lives of a "minority subset" of Americans.
However, because CVS and Rite Aid, as private corporations, are now engaged in population level blanket vaccination, I am writing to inform you that the risk of liability for harm to persons who are naturally immune or recently infected, from indiscriminate COVID-19 vaccination, is focused on your corporation and pharmacist colleagues.
Let me be clear, on two main points of liability your attorneys may understand well:
I trust that you and your attorneys are able to process the information I've provided you objectively and understand that very simply mitigation approaches are possible to exclude those persons who are naturally immune, or recently infected, from a risk of harm within your vaccination facilities. These miitgation strategies MUST include: a) a proper history from the patient to exclude anyone with a known history of prior SARS-CoV-2 infection, and b) screening of vaccine candidates for anti-viral antibodies and viral antigen, before vaccination (i.e., #ScreenB4Vaccine).
To summarize, here, I am informing you of the potential risk of serious medical harm to at least a minority subset of your customers during this pandemic outbreak. Specifically, I am informing you that if indiscriminate COVID-19 vaccination in persons who are naturally immune or recently infected triggers serious illness or death, your awareness of this possibility now, poses a serious liability to your corporations — and especially IF you do not act to mitigate against this risk of harm to, at least some of your customers nationwide. I propose a #ScreenB4Vaccine approach AND a thorough "exposure and clinical intake history" prior to vaccination.
I'd be happy to discuss the potential risk I've informed you of here, in person if you wish.
In defense of US public health and the minority subsets of persons in potential harm's way,
Hooman Noorchashm MD, PhD
Hooman Noorchashm MD, PhD is a physician-scientist. He is an advocate for ethics, patient safety and women's health. He and his 6 children live in Pennsylvania.
See Also:
Having problems receiving our newsletters? See:
If our website is seized and shut down, find us on Minds.com, MeWe, and Parler, as well as Bitchute and Rumble for further instructions about where to find us.
If you use the TOR Onion browser, here are the links and corresponding URLs to use in the TOR browser to find us on the Dark Web: Health Impact News, Vaccine Impact, Medical Kidnap, Created4Health, CoconutOil.com.
The post You've Been Served Notice! CVS, Rite Aid Liable for The Potential Danger of Indiscriminate COVID-19 Vaccination first appeared on Health Impact News.
This content was originally published here.